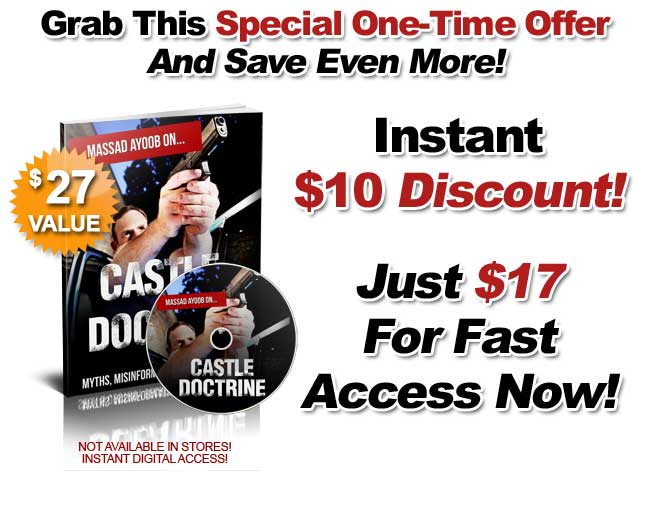 Dear responsbily armed citizen,
We're all familiar with the phrase "a man's home is his castle". This forms the basis of what is commonly called the castle doctrine law.
And there's no denying when it comes to self defense and tactical consideration your home is yours and you have a right to protect it.
But there's a big problem here…
Most people's understanding of how to defend yourself in your home comes from television, movies, and the loudmouth big-shot down at the local gun store.
In other words, you're likely baseing your beliefs on myths, misinformation, and outright lies!
Failing to get the truth about the legalities of gun self defense could end up costing you the one thing you're trying to defend – your freedom.
Finally! The No B.S. Truth About
"Castle Doctrine Law" From
The Most Highly Acclaimed Author On
The Legal Aftermath Of Self Defense!
I can think of no one better to cut through all the nonsense and tell you the true legalities of self defense than Massad Ayoob..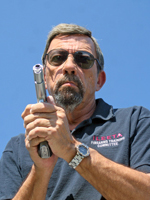 Massad has been handgun editor for Guns magazine and law enforcement editor of American Handgunner since the 70's.
He's published 1000's of articles in gun magazines, martial arts publications and law enforcement journals.
He's won more tactical handgun trophies, awards and distinctions than I can list here….
…And he's been an advisor to law enforcement and taught extensively on the topic of deadly force and legal concerns.
Now you can see why we were so excited to land an exclusive interview with Massad and picked his brain on this vital and important topic.
Masaad lifted the veil on the truth about exactly what will and won't send you straight behind bars in a deadly force self defense scenario.
Now you can listen to every single word of our interview – and we even compiled everything Masaad revealed into an easy to follow report "Castle Doctrine Myths, Fantasies, And Outright LIES!".
[cqcbuybutton product="CASTLE-DOCTRINE"]

[/cqcbuybutton]
In This Exclusive Special Offer
You'll Discover Such Secrets As…
The definitive rules of home defense as it applies to firearms – get this wrong and your legal argument is based on a flimsy foundation that will crumble to pieces in a court of law
A "5-point checklist" of things you must do after using a firearm for self defense. This will position you well to minimize and negate any legal aftermath.
Discover what exactly are the rules of engagement when you're attacked in your home. No more myths, lies or half-truths. Hear it from a courtroom expert witness.
Untangle the web of "What happens in a case of domestic violence when both persons reside in the residence and one person shoots the other dead in self defense?" Find out the mistakes made by one battered housewife that landed her in jail despite her husband's threats to kill her.
The crucial difference between deadly force and self defense. It may seem like splitting hairs to you but in the eyes of the law this distinction makes all the difference.
2 unique things you must know – specific to your state – regarding rulings on home defense cases (even if you don't have a Castle Doctrine clause).
The major differences between castle doctrine and stand your ground law. These two are often confused and incorrectly used interchangeably. Know the difference and how it applies to your safety and staying within your legal rights
2 quick & easy ways to get 100% up-to-date information on the castle doctrine laws in your state. (Note – Every state has slightly different law variations and it's critical you know your own state's criteria.)
What to do when an invited guest turns into a violent nightmare. This is a real grey area because a guest that has been invited into your home automatically falls under castle doctrine law (therefore you can't use deadly force on them as you would an uninvited intruder). Mayaab reveals if things turn sour the 5 steps you must take in order to negate castle doctrine law so you can legally defend yourself.
Is there any lawful truth to "You can shoot anyone in your home"? The answer may surprise you!
3 elements that must be present for a homicide to be "justifiable". Know these and you can be confident when you pull the trigger that the aftermath won't be a legal nightmare
Discover the little-known pitfalls that turns innocent self defense cases upside down… into murder trials!
The truth about an acquittal… and why not going to jail doesn't necessarily mean you're a winner.
A myth about self defense from the anti-gun "Brady Bunch" that's been said so often by enough people that gun owners believe it…

despite it being totally false!
[cqcbuybutton product="CASTLE-DOCTRINE"]

[/cqcbuybutton]
The Most Common Legal Lies
About Gun Self Defense – BUSTED!
Self defense isn't always predictable and clear cut.
And in these times of life and death, you can't afford to have any hesitation over defending yourself or your loved ones.
That's why Masaad also cuts through all the hype and misinformation so you can confidently take a stand against any attacker and know you're safely within the law.
He'll cover key points such as:
Crucial steps that must be taken after a shooting to help document your case. So many people overlook these and it comes back to haunt them in the court room
The truth about disparity of force – discover how it can apply to you shooting even an unarmed man (if you know the law, it makes perfect sense)
How legally justified is it shooting a person with only a knife (a majority of people have the totally wrong perception about this) and how expert witnesses can back you in court.
The big public myth of "hierarchy of lethality" and what this means for you when you use your gun in self defense
The only thing that will keep you out of jail if your case has no witnesses (and 2 ways to avoid making this mistake).
7 situations where disparity of force applies including the most common circumstance where it's justified
Will the defense "He was going to punch me and punches can kill so I shot him" hold up in court?
Is there any justification legal or practical to shooting someone on your lawn and dragging them back inside?
When can you apply the stand your ground law (hint: it's not in a self defense situation).
[cqcbuybutton product="CASTLE-DOCTRINE"]

[/cqcbuybutton]
There's No Second Chance In A
Real Life Self Defense Situation!
As with all self defense scenarios you don't get another go.
Don't make a legal mistake that could end up costing you jail time… or worse don't have the hesitation in a crucial situation that could cost you your life because you don't know the law.
This exclusive special program will arm you with the legal knowledge you need so you can apply your technical expertise and training to lawfully defend yourself with no nasty legal repercussions.
The report is normally $27 but as part of this special "Bulletproof" companion offer you can grab it today for only $17.
I'm so sure that you will be thrilled with the information and knowledge you get from "Castle Doctrine Myths, Fantasies, And Outright LIES!" that I'll even back it up with my same 100% Money Back Guarantee Promise To You…
I want you to be totally confident with not only your purchase but with the insights you will gain from the course and that after going through the course you will know everything you need to know about castle doctrine law.
If for any reason or no reason at all you're not satisfied with the course simply contact me for a prompt and courteous refund.
No questions asked. That's my promise to you!
All you have to do to accept this special savings is click the green "YES!" button below and we'll add the extra $17 charge to your order and have your report
(a $27 value!) waiting for you in a special download area…
[cqcbuybutton product="CASTLE-DOCTRINE"]

[/cqcbuybutton]
YES! Give Me Instant Access to "Castle Doctrine Myths, Fantasies, And Outright LIES!"
I understand that I can download the report right away and get all the information I need about the castle doctrine.
As per our agreement, I have a full 60 days to "test drive" all of the tips and decide if this program is for me. If not, I can contact your support team and ask for a prompt and courteous refund.
To Your Survival,



Jeff Anderson
President
The International Society Of Close Quarter Combatants (ISCQC)
P.S. Remember you are backed by my 60 day no questions asked money back guarantee. I'm taking all the risk. Get the program and go through it and if you're not completely satisfied you can get a full refund. There is no risk on your part. To get started just click the green button below and we'll add this additional amount immediately to your order and you can download the entire program right away