[cqcbuybutton theme="HAWK" product="TT-MASTER-BLADE"]

[/cqcbuybutton]
Discover These Elite Secrets For How To Choose, Carry, And Fight With A Knife To Stop A Violent Attacker!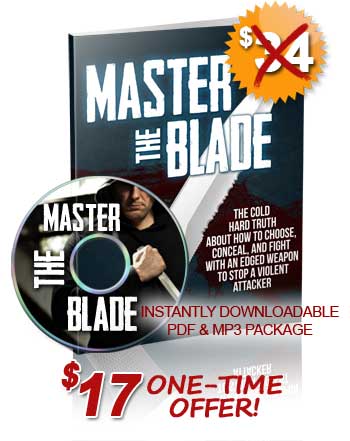 It's the most common weapon you'll ever find on the street or in the hands of an experienced gangmember who knows how to cut his way to your wallet – or worse!
It is, of course – a razor sharp knife!
Whether you're facing a knife-wielding attacker or you carry one for your own self-protection, the truth is…
…you must know how to use an edged weapon to defend yourself in a life-or-death attack!
That's why we located one of the top experts in the field of knife combat and got him to reveal his deepest, darkets secrets about what really happens in a knife fight… and how to employ a blade with expert skill in the shortest time possible.
Our challenge to him?
Give us the down-and-dirty secrets the average person can master quickly to not only defend against a knife attack… but use one in real combat!
Warning: This ain't no dance-around, mystical knife-fighting moves
with
long, fancy names you can't pronounce, let alone master.
This is real edged-weapon combat tactics – the same ones taught to elite law enforcement, military, and government operatives!
Here's A Quick Look At What You Get When You Take Advantage Of This One-Time Offer Now…
Real life pictures – of real life knife attacks!

Not for the squeemish, but I'm afraid it's the only way for you to fully understand how dangers a criminal with a knife can be. Better to prepare now… than to freeze in fear later when you need your head in the fight!
Neuro-linguistic programming: It's more than just a fancy schmancy scientific phrase. It's the key you'll use to unlock your mind's built-in powers of programming these knife tactics into your muscle memory… permanently!

The key to recognizing a knife threat before you're staring at a razor sharp blade!

One of these ways is to stop doing a nasty habit I know you're currently doing every single day of your life. You'll know exactly what I mean once you read this critical "how-to" guide.

How to program yourself to react quickly… even when ambushed!

This method will act as your foundation for launching your own counterattack with or without a blade in your hand.
The absolute best place to carry your personal defense knife! Not many people know of this hidden location – but you'll switch to this carry tactic as soon as you hear our common sense reasoning based on real knife attacks!

How to choose the best personal defense knife!

Just as with various handguns, there are pro's and con's to various types. We'll cut through the B.S. and tell you all you need to know about how to choose the best backup defender!

The S.T.A.B. technique for covert, lightening fast weapon drawing!

Super simple to master… just follow this 4-step method and you'll be fast as lightening at drawing your knife for combat!

The only real way to wield a knife for a quick "man-stopping" attack!

This method will make a lot of so-called "knife fighting experts" rip-roaring mad… but they can leave their fancy moves for their idiotic YouTube videos – we're only concerned with what really works when your life is on the line!
Simple knife training drills! Alone or with a partner, the first time you practice edged weapon combat shouldn't be when you're eyeball-to-eyeball with a vicious gangbanger in a parking lot.

And much more!
All you have to do to accept this special savings is click the green "YES!" button below and we'll add the extra $34 charge (only $17 today!) to your order and have the "Master The Blade" program waiting for you in your download area…
[cqcbuybutton theme="HAWK" product="TT-MASTER-BLADE"]

[/cqcbuybutton]